Reports
Poor medical preparations raise alarm over COVID-19 outbreak in northeast Syria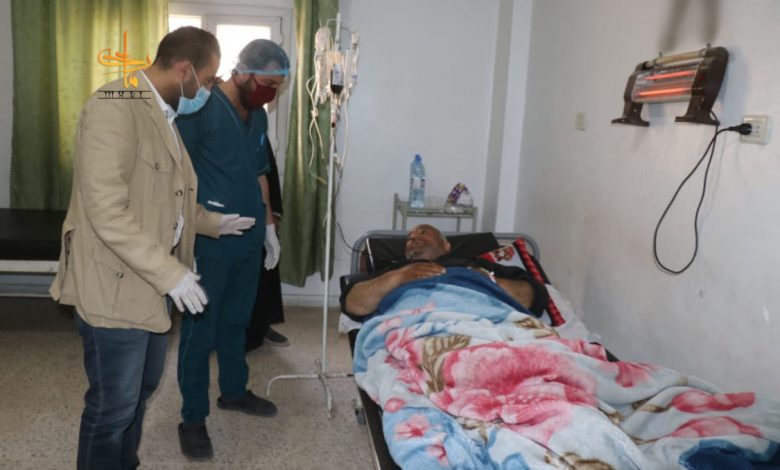 ISTANBUL: This time last month, Aref had been hoping to return back to his everyday life as soon as possible. A carpenter, he had to stop working on March 23, after the Self-Administration in charge of his corner of northeastern Syria announced a curfew to combat the novel coronavirus, COVID-19. 
But normal life has yet to return. Later, in April, authorities announced that the curfew would go on another two weeks. Aref began to worry that the virus could spread to his hometown of Kobani, along the border with Turkey. He still cannot go to work.
"Nobody is dying yet of hunger, but we are afraid that we'll die of the coronavirus," Aref tells Mari. 
"Everyone knows there are infected people in regime-held areas of the country, which increases the possibility that it will reach the northeast. The road is still open for everyone." 
At least one person from the northeast has already died of coronavirus since the outbreak reached Syria earlier this year. He was among the 42 people so far reported to have been infected with the virus in Syria. Like others in Syria's northeast, the man's death–as well as fears that Syria's actual coronavirus count is higher than reported–is making Aref nervous. They are especially fearful after accusations that the World Health Organization (WHO) hid news of the man's death for around a week. 
Meanwhile, medical staff in the northeast complain of a lack of equipment to test for the virus quickly, as well as to treat it. 
An international failure to fight the pandemic
According to Ahmad Mahmoud, joint head of the Self-Administration's health committee for the Euphrates region of northeastern Syria, hospitals there "lack certain medical equipment, such as ventilators and monitors." There are no more than 50 oxygen cylinders available, he said. 
Mahmoud added that the health committee in the Euphrates region has equipped two quarantine centers, each containing 80 beds. A third center was also set up for emergencies, with 12 beds and works 24 hours. AVC, a Switzerland-based humanitarian NGO, also set up a fourth center with 50 beds and 20 oxygen machines, and is working to set an additional center containing 100 beds. 
Still, the lack of preparedness prompted Self-Administration to publish a statement on April 6 demanding that the international community "provide the necessary medical and health supplies" to halt spread of the virus in the area and prevent a "possible humanitarian crisis."
The Self-Administration's health committee also published a statement last Friday responding to the World Health Organization (WHO) report that a person had died from coronavirus in a hospital in Qamishli, a city in northeastern Syria near the Turkish border. 
According to the statement, WHO reported that a 35-year-old man from the city of Hasakah had been infected with the virus on March 22, then transported to a Syrian government-run hospital in Qamishli. His test sample was then sent to Damascus. He died on April 2. 
The statement then added that the sample was found afterward to have been positive for coronavirus, and was one of six cases announced by the Syrian government's health ministry. The Self-Administration's health committee placed responsibility on WHO for "the presence or spread of coronavirus among residents, because it concealed a suspected case and did not inform the Self-Administration, which is the party responsible for this region [of Syria]," according to the April 6 statement. 
The statement referred to the incident as a "failure" on the part of WHO to support the local health sector in fighting coronavirus. 
At the time of reporting, Mari could not independently confirm the health committee's statement. But Dr. Omar al-Akoub, General Director of the Qamishli National Hospital where the 35-year-old man was reported to have died, publicly denied that there had been any deaths due to coronavirus in the hospital. 
Al-Akoub told local news site Syrian Reality Echo on Friday that his hospital "sends many test samples of suspected coronavirus cases to the central laboratory in Damascus, and none had been shown positive yet." 
'Modest' prevention measures
The health committee and emergency teams are coordinating with local authorities in Raqqa to disinfect neighborhoods and other public spaces, including markets, daily, Jowan Mahmoud al-Thakhira, an official on the health committee in Raqqa. "Each day, 160 vehicles with sprinklers and disinfecting equipment go out to sterilize [the city]," he told Mari. 
Al-Thakhira added that the city's local health committee had taken preventative measures before curfew restrictions had begun, setting up a temporary medical clinic with about 50 beds. 
Still, he said, there is a "shortage" of medical equipment, "just as there is in many larger countries." 
Sawsan, a cultural organizer activist in Raqqa, doesn't leave her home anymore, fearing the rapid spread of coronavirus. 
Despite an enforced curfew in the city, which is under the control of Self-Administration authorities, "people are still being very reckless, gathering in front of bakeries and in other public spaces without maintaining distance from one another," the 25-year-old complains. 
She worries that authorities in Raqqa aren't doing enough to help residents cope with lack of work amid curfew. 
For its part, local authorities are pointing blame elsewhere for coronavirus fears. The Self-Administration's health committee released a statement on April 8 holding the Syrian government responsible for any cases of coronavirus, amid a lreported ack of any steps to prevent continued travel to areas under the Self-Administration's control. 
Steps already being taken by the Self-Administration, such as roadblocks at city entrances, are unlikely to be of much use, said one doctor in Raqqa who asked to remain anonymous to protect his identity. "These are extremely basic measures," he said. 
"In Raqqa, the National Hospital and other clinics can be converted into quarantine centers, but the Self-Administration lacks the equipment for this, and must secure it before it's too late."  
Raqqa in particular is at risk. The city, once the Islamic State's stronghold before its capture by US-allied majority Kurdish forces in 2017, saw its medical facilities decimated over months of ground battles and airstrikes. Medical capabilities in the city are "below average," particularly as displaced residents continue returning home, according to Firas al-Fahd, a doctor in Raqqa. 
He estimates there are some 150 available beds in Raqqa's public hospitals for coronavirus patients, "an inadequate number compared to the city's total population." 
Others in northeastern Syria said that they simply feared the deteriorating economic situation there more than the virus' potential spread. Kulul Liani is among them. The 32-year-old lives in Qamishli, the home city of the man who died earlier this month from coronavirus, in northeastern Syria's first recorded death from the virus. 
Still, Liani says, "there is no fear of coronavirus as much as fears over the economic situation here." 
"Measures [being used to stop the spread of coronavirus] are the only solution," he adds. "But they will cause a catastrophe for us."