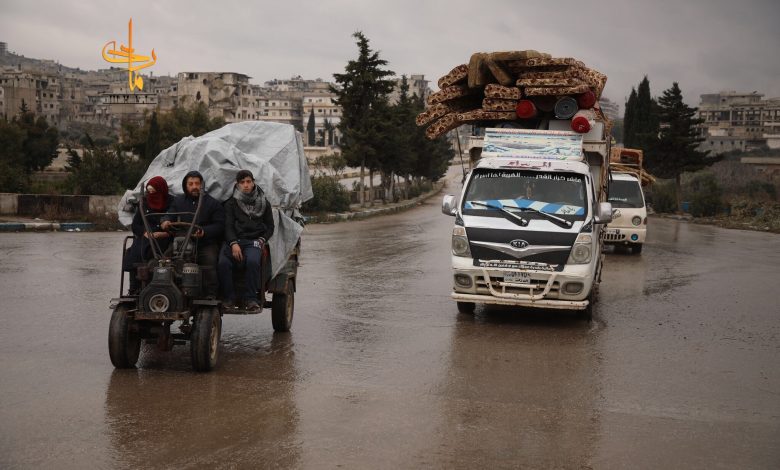 ALEPPO: "Where can we go?" one man, Abu Muhammad, asked a reporter from Mari as he searched for a safe place in northwestern Syria. His question came amid the latest wave of displacement as Syrians flee government bombs and military advances.
The Syrian Response Coordination Group has recorded nearly 1.7 million people displaced in northwestern Syria from the signing of the Sochi agreement in September 2018 until the end of January 2020. During this time, government forces seized control of a number of areas in Syria's northwest, in contradiction to the Astana talks and Russian-Turkish-Iranian guarantees. 
For Abu Muhammad, who comes from the town of Kafr Naboudeh in northern Hama, this is not his first experience of displacement. The first time was a year ago, when he fled with his wife and six children from their hometown to Khan Sheikhoun in nearby rural southern Idlib. Then, in August, after the government's military advances on the city, they were forced to flee to Maarat a-Numan. 
The third time, he said, Abu Muhammad fled with his family on their tractor, spending six hours on the road. Maarat a-Numan was seized by government forces last Wednesday, pushing the family to drive to Afrin in rural northern Aleppo, reaching an area far from the fighting. The family spent a portion of their remaining cash on fuel for the tractor, leaving them with only several thousand Syrian lira. It is enough for the family to purchase food and water for two or three days at best. 
When they arrived at the entrance to Afrin, the family was stopped for a security search at a checkpoint run by Turkish and opposition forces. A Turkish commander asked Abu Muhammad, through a translator, "What are you carrying with you? Are you fighters? Where are you going?" They were finally allowed to enter the city, unlike a number of other families. 
There, Abu Muhammad found an unfurnished house, its surrounding garden covered in gravel. He covered the windows in plastic and moved his family in. His situation is far better than that of thousands of other displaced people now living without shelter. 
Displaced in the streets
While Abu Muhammad takes shelter between four walls barely suitable for living, Abu Omar has spent days living in the streets of Afrin without a house. 
Originally from Maarat a-Numan, Abu Omar, his family and hundreds of other families have been forced to live out on the streets and sidewalks in the dead of winter. It is a sight that has become normal in rural northern Aleppo, where displaced families now receive food from aid workers, or from local residents themselves. 
That is how the journey of displacement ended for one young man, Jamil al-Maraab: in the streets of Azaz city in rural northern Aleppo. He took up shelter at a bus stop, after wrapping it in the canvas of an old tent. 
"Although our shelter has little space, at least it's better than being in our homes that we were forced to flee," al-Maraab told Mari. 
While he waits on humanitarian aid "that may not arrive," he said he is now searching for work. 
A humanitarian crisis
For some Syrians from rural southern and eastern Idlib and from western Aleppo province, the journey of displacement took them to the towns and cities of northern Idlib province, or to the border camps. Others chose to flee towards rural northern Aleppo, under Turkish control.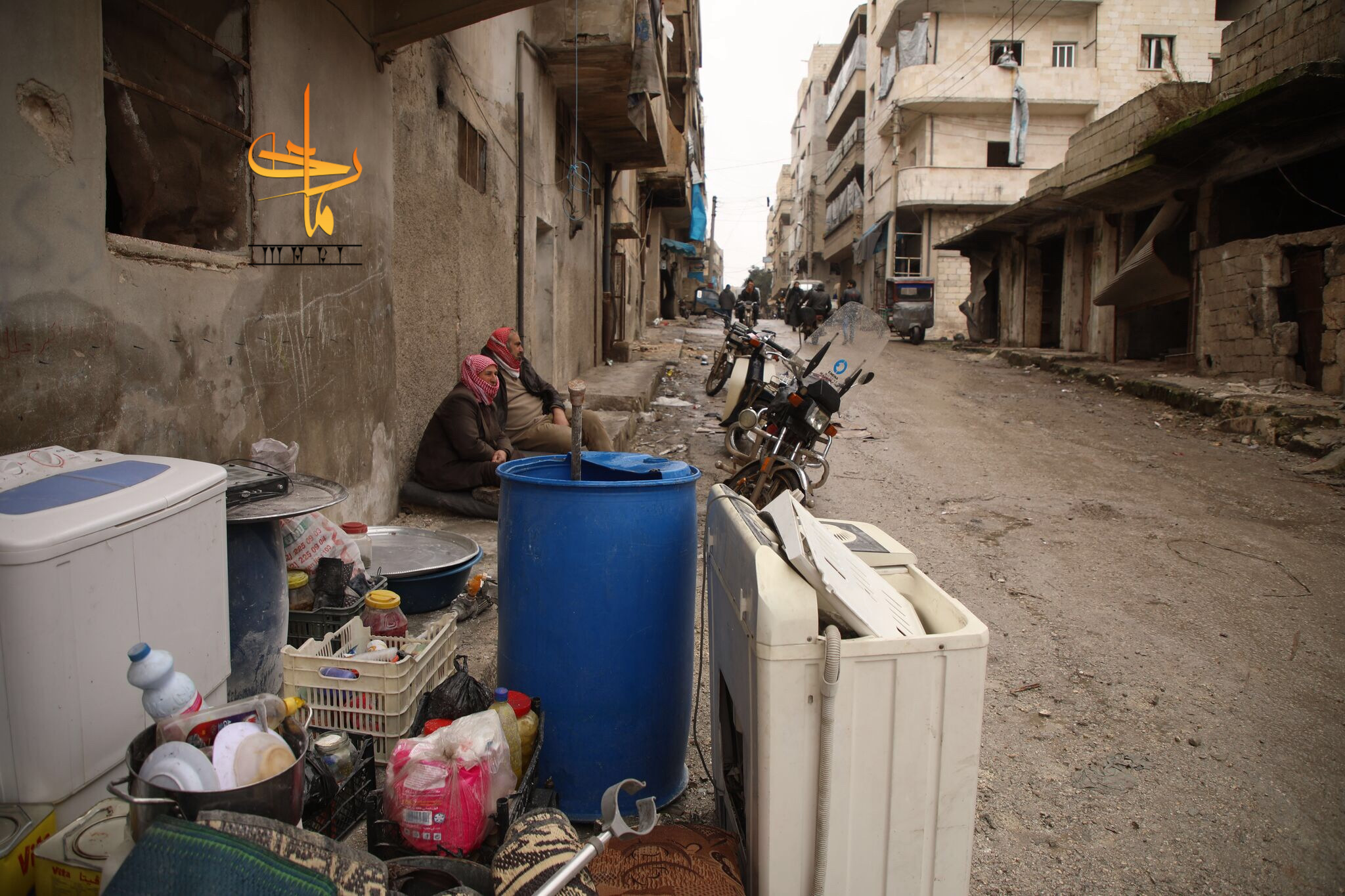 Humanitarian groups working in northwestern Syria estimate that some 250,000 people were displaced in January. Of them, 100,000 ended up in rural northern Aleppo, according to Kutaiba Sayd Issa, head of "Violet," an organization that provides aid in northern Syria. 
Despite the numbers, the humanitarian response in northern Aleppo has been weak. Local officials from Azaz set up four "temporary camps" in Azaz itself, as well Afrin, Jandaris and Rajou, Muhammad Hajj Ali, head of the city's local council, told Mari. The camps contain only 160 tents, he said, admitting that they are not enough to accomodate the needs of the thousands of displaced people who have arrived in recent weeks. The council is "working on a plan to respond to their immediate needs and secure temporary shelter for them," Hajj Ali said.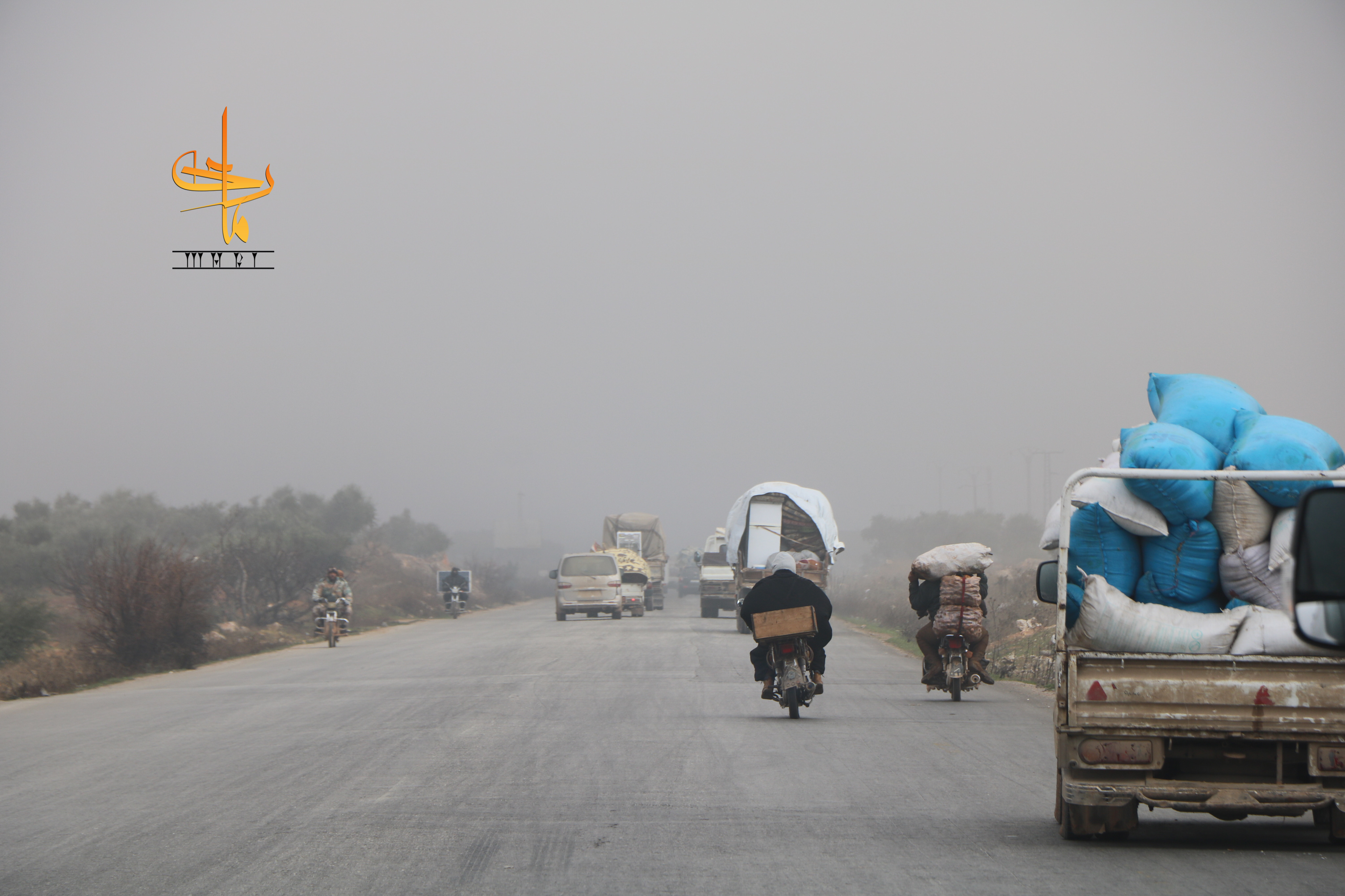 In Rajou, a town northwest of Afrin, some 40 tents have been set up between the trees for the newly displaced, Muhammad Ajami, a local resident, told Mari. He said that opposition factions there formed a "monopoly" over the tents, charging as much as 25,000 Syrian lira per month. 
According to Ajami, some rebel militia leaders have also begun to charge rent for a number of homes that were prepared to take in displaced people in Shirran, and for their relatives who had arrived in the area. 
Mari was unable to confirm his claims. 
International failure
According to Muhammad al-Jandali, a member of Turkish aid organization IHH, the "immediate response to displaced people over the past month has seen only 67,000 food parcels." 
"We feel unable to provide aid now–what will happen if even more people are displaced, if the regime, Russia and Iran continue their military campaign?" 
He added he feels that the "international community and the UN have failed us." Hajj Ali, the local council head from Azaz, warned of a humanitarian catastrophe "in the absence of support from the international community, to halt the massacre, or at least to help people. He noted that the number of displaced people is still on the rise, while response capabilities are low. 
"We can hardly secure food parcels," Haj Ali said. 
According to Zaher Sahloul, a founder of the NGO Mubadarat al-Ayman, the UN has been "slow in responding to this tragedy."
"They needed to end the crisis as a priority," Sahloul said. He called on US President Donald Trump to increase humanitarian aid to displaced Syrians, and to put "full diplomatic pressure" on Russia to halt the bombing over Idlib. 
Searching for work
After their arrival to rural northern Aleppo, an area also known as "Euphrates Shield," which is under the control of the opposition-affiliated and Turkish-supported Syrian National Army, displaced people begin a new phase of their challenge: finding a job. 
While some of the displaced might create job opportunities for themselves, the people of Idlib are from "an agricultural society," according to Bashir al-Ali, a displaced man from East Ghouta who now lives in the rural Idlib own of Kafraya. "They depend on their lands for wheat, olives or other produce as a main source of income." Now, al-Ali said, "they are no longer able to live off of their lands, and they don't have the needed skills to find jobs in the areas where they live [in displacement]." 
Humanitarian aid is not a permanent solution for them, according to al-Ali. Though there are organizations providing aid, "delivery is not regular, and there are problems that paralyze distribution," he said. 
In addition, people displaced to rural northern Aleppo have two issues in front of them, al-Ali said. "Either they search for free shelter, or an area with low rent. Those areas don't have work opportunities, and transportation from them to other areas is costly." 
"That, or they live in areas where there are work opportunities, and they pay everything they earn on rent." 
Average daily pay there is between 1,500 and 2,000 Syrian lira, according to al-Ali. Meanwhile, rent for an unfurnished home is as high as 100,000 lira per month.